Tax Collector/CFO
Kunjesh Trivedi
Chief Financial Officer
and
Certified Tax Collector
201-768-8185
201-768-1588
Fax 201-768-3038
cfocollector@harringtonparknj.gov
General Tax Collection dates:
February 1
May 1
August 1*
Nov 1
Late fees begin 10 days after payment due date
*Due date may change due when Borough receives County and State tax rate calculations are received
2015 PTR (Senior Freeze) Application Mailing

The Division of Taxation has begun mailing applications for the 2015 property tax reimbursement (Senior Freeze) to senior citizens and disabled residents who may be eligible for the program. The deadline for filing the applications is June 1, 2016. The Property Tax Reimbursement (Senior Freeze) Program, now in its 18th year, reimburses qualified applicants for the property tax increases they incur each year. Applicants must continue to meet all the income eligibility and residency requirements and must file an application each year to receive the reimbursement.

RESPONSIBILITIES OF THE MUNICIPAL TAX COLLECTOR
Inform and billing for the amount of taxes due from each taxpayer

Cooperates with the local Tax Assessor, the County Board of Taxation and other financial authorities.

Responsible to receive payments of taxes and account for them.

Reporting periodically activities in order to keep municipal governing officials and citizens aware of the state of the municipal finances.

Responsible for the initiating and following the procedures for the enforcement of timely payment of taxes by taxpayers.

Click the image below for
NEW JERSEY PROPERTY TAX DEDUCTIONS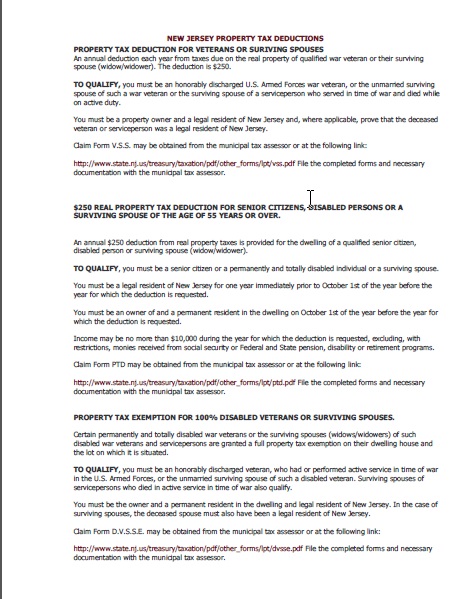 RESPONSIBILITIES OF THE MUNICIPAL CHIEF FINANCIAL OFFICER
Assists the governing body in the preparation of the annual budget

Supervise the posting and maintenance of the books of original entry of all funds

Compliance with NJ Local Bond Laws, Local Budget Laws, Financial Affairs Law, Local Public Contracts Law and Community Affairs

Supervise the preparation of monthly reports to the Treasurer, Tax Collector and investments

Compliance with the directives of the Department of Community Affairs and Division of Local Government Services

Compliance with Audit requirements

Supervision of petty cash and change funds

Preparation and signing of Annual Financial Statements, Annual Debt Statement and Supplemental Debt Statements

Bank Reconciliations

Custody of all public funds

End of fiscal year reports of all expenditures and revenues

Supervision over the maintenance of separate accounts for all municipal budget appropriations

Suggest recommendations for better management of municipal finances
====